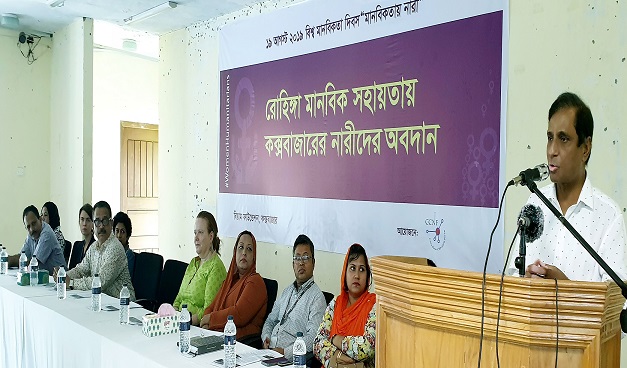 Cox's Bazar, 19 August, 2019.   Refugee Relief and Repatriation Commissioner (RRRC) Mohammad Abul Kalam said, "Depending on the logic, the frustration of the Rohingya people must be alleviated. Frustration is the cause of great harm and great enemy to any person and any community. He was talking toady as the Chief Guest of a dialogue organized by the Cox's Bazar CSO and NGO Forum (CCNF) on the occasion of the World Humanitarian Day.
The Refugee Relief and Repatriation Commissioner also said, humanity is a widely discussed word in the world but it has become more important in our country in the context of the Rohingya crisis since 20 17." He said, the presence of women workers in today's program can estimate how many women in Cox's Bazar have engaged in humanitarian response. This initiative of bringing the contribution of women to the world, is really praiseworthy. Women and children are more vulnerable to any disaster, so women workers can reach the people most affected by disaster; The proof of this is that we have helped the Rohingya with the help of women. Therefore, women should think about the benefits and safety of the workplace. It is the responsibility of every humanitarian worker to create hope among the Rohingya Myanmar citizens until they return to their home country, he opined.
About 300 women activists from various NGOs working in Cox's Bazar and members of CCNF participated in the dialogue.  Among others Panel Mayor of Cox's Bazar Shaheena Akhtar Pachi, Women Councilor Jaheda Begum, BRAC Head of Operation Khaled Morshed, IPSA Focal Parson Shahidul Islam, Ashok Sarkar, Co-ordinator of Mukti Cox's Bazar, Ahdok Hossop, Social worker Shamim Akter, journalist Moazzem Hossain Shakil, Cox's Bazar chief of  Fondation Hirondelle Diane Jensa, environmental and human rights activist Mia Mohammad Ilyas were also present.  Women field workers from different NGOs shared their experiences. Jahangir Alam and Taherima Afroz Tumpa of the COAST Trust facilitate the program.
The event was presided over by CCNF co-chair Abu Murshed Chowdhury. In his welcome speech he said, CCN has been observing the World Humanitarian Day every year since 2017. He also highlighted the context and purpose of observing the World Humanity Day in Cox's Bazar. he placed rationale of demanding health insurance and travel allowance.   On behalf of the organizers, Abu Morshed Chowdhury recalled the deceased activist Rozina Akhtar killed in a road accident while going to a Rohingya camp.
Special Guest of the event and Assistant Commissioner of the District Administration (NGO Cell), Zinaat Shahid Pinki, said, many of us work directly with humanitarian assistance. But despite the difficulties, our mothers and sisters have endured and continue to contribute to humanitarian work. Not only do women have to work at the field level, they also have to work at the policy level. Women should not only think of motivating women, but both women and men need to take society forward by motivating them.
Moonmoon Gulshan, the National Co-Ordinator of the NGO platform, said, women workers faced many challenges when working on humanitarian assistance. They should try to solve it and women should be involved more in managerial tasks. Women today are not far behind; their achievements need to be highlighted properly so that others can be inspired.
Mary Tullimund, Gender and Communications Officer of Inter Sectoral Coordination Group (ISCG) said,  the importance of ensuring safety women workers in the workplace is really important.
Hamida Taher, Vice Chairman of the Cox's Bazar Sadar Upazila Parishad,  said, "I was shocked to hear about the arrival of Rohingya, but later learned that our Prime Minister gave them shelter. The next day, along with the other leaders, we women leaders jumped in for their help. Local women is continuing to contribute greatly to provide humanitarian assistance to the Rohingya people.
Please download related paper [Bangla Press] [English Press] [Bangla Position Paper] [English Position Paper]
Newslink Dhaka and Cox's Bazar
Paper Cutting Cox's Bazar